Take Control....

As a keen photographer, if there's one thing more exciting than taking a great photograph it's knowing how to take a great photograph.

Photography is a fascinating mix of technical skills and artistic skills and while the knowledge and techniques required to take great pictures are not particularly obvious they are easy to understand and easy to learn. It's all about making the camera do what you want it to do.

On a day course with me you will be taught the technical and artistic skills that matter and have a chance to put them into practice on a day out in the Peak District, perhaps visiting some of the out-of-the-way places that only truly local knowledge will take you to.

A little bit more detail about the structure of the day can be read Here

I am an experienced University lecturer and have been leading photography workshops in the Peak Distruct since 2008. I am also a trained Walking Group Leader and have been walking the hills and dales of the Peak District since 1988.

Click here to read some feedback on our courses

Click here to read the course FAQ





Experience and capture the beauty of the Peak District National Park on a day out with Chris.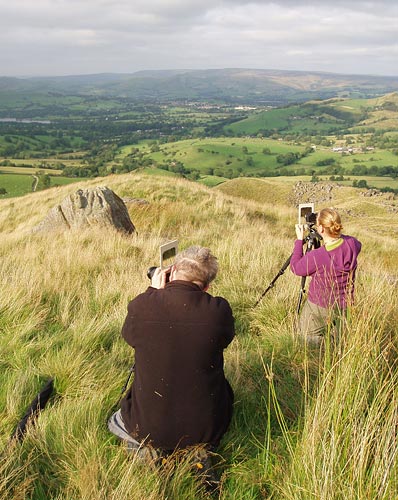 1:1 Tuition
A day's 1:1 tuition costs £139 and includes a programme tailored to your needs and transport to a variety of stunning locations

** 2:1 Special deal for couples, friends and family **


Please contact us directly about availability and booking on 01298 871958 or email us at chris@ravenseye.plus.com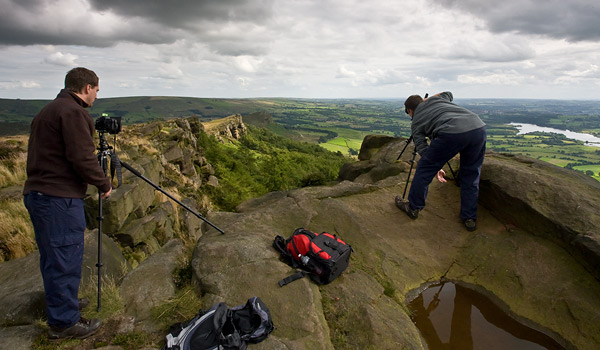 A sunny Sunday afternoon on The Roaches

Novice or improver, the teaching ratio is always low with no risk of being overlooked in a crowd of strangers. Groups can be catered for by negotiation so please contact us to discuss your requirements. At all times the focus of the courses is on helping you get the best out of your camera. You are in good hands. Chris has several year's experience teaching at Postgraduate level at one of the country's leading universities and has been leading photography workshops since 2008, both in his own name and for other companies. Teaching days are carefully planned and put together. Chris prefers to get out into the field to practice the techniques discussed whenever plausible. We can't control the weather but if we can go out then we will. We rarely cancel!

The precise structure of the day is driven by a combination of your subject preferences and your coaching needs but typically might contain a combination of the following subjects;


Composition Fundamentals
How to construct pictures that will capture the attention of the viewer, what to look for in the landscape and why it is that photography in particular appeals to so many people. Material on composition is included in all workshops, regardless of subject or structure.


Photographing Landscapes
Including not only the skills required to deliver stunning landscapes but also how to create the required opportunities. Again, there are plenty of fabulous locations to choose from.




Getting the best out of your smartphone
I am fascinated with where photography is going. Smartphones are now fairly ubiquitous and nearly everyone carries one in their pocket. You would probably be amazed at how good the cameras in them are. Like most things in digital photography, accessing thier strengths is not particularly obvious and a day workshop with me will equip you with the knowledge you need to get some really good photography out of them. You may find yourself buying some more gear as a result but it's not essential.




Photographing moving water
How to get those beautiful flowing lines. With an abundance of fabulous locations in the Peak District to choose from.













Photographing wild flowers
The Peak District is fortunate to have an abundance of rare and fascinating wildflowers with the local orchids in particular offering wonderful photographic opportunities. The course uses some less well-known venues to photograph and record some of our best local species.

(There are seasonal limits to the wildflower opportunities available and during spring regular surveys are performed to monitor the abundance of available plant species).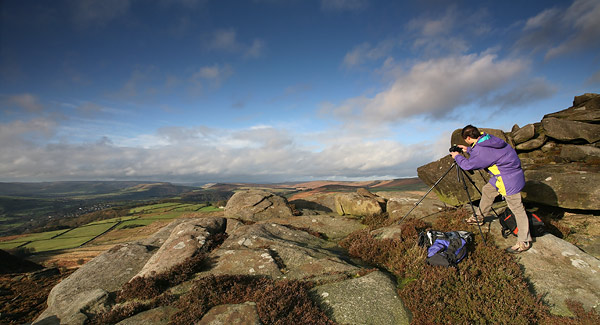 All courses should be paid for in advance to secure your preferred date


Flexibility
Please contact us if you have specific requirements. We are very happy, for example, to provide multi-day experiences that incorporate both tuition and practice to suit your needs. Larger group workshops can also be arranged, either general or subject specific.

Insurance: We do not provide equipment insurance but will not suggest any dangerous or risky activities. You will be asked to sign a disclaimer before embarking on the field trip. If this troubles you then please call to discuss your concerns.